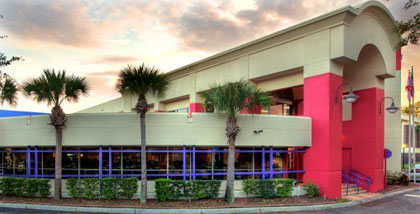 Trenchless Sewer Pipe Repair Orlando, FL
Contractor: BlueWorks Location: Orlando, FL Type: 300' Cast Iron Pipe Repair Cost: (Private Bid) Contact Contractor For Estimates Technology: Cast Iron Sewer Pipe Relining
Have a sewer problem or need an estimate?
Call Blue Works now at (727) 478-3036

View Full Contractor Profile Here: Sewer Repair Florida
To Email This Contractor

Downtown Orlando YMCA was experiencing ongoing problems with the underground cast iron and VCP piping system. The kind of sewer backup problems no one wants to deal with and everyone dreads. This facility is a 'heavy use' building due to the hours of operation and the popularity of the patrons. This project needed to be mapped out with pipeline video cameras to determine which sewer pipes were in the worst condition and which sewer pipes were in better condition. Also, where the pipes went and how they were connected, a complete mapping project was required before starting any repair work.
Trenchless Cast Iron Pipe Relining Orlando, FL
Upon Completing the internal sewer camera inspection, Blueworks identified that the system was failing due to scale and sand build-up in the lines. Believe it or not, this is a very common problem and is actually more of a problem that tree root penetration. You see the scale and build up problem in very old sewer pipeline and you also see this in heavy use facilities, like the Orlando YMCA. It was determined that approximately 300 linear feet of 3", 4", 5" & 6" Cast Iron Plumbing Pipes and VCP Plumbing Pipes needed attention. A repair like this requires a strategy and one that needs to be completely comprehensive with the contractor and customer.
Cast Iron Sewer Pipe Repair Orlando, FL
Upon agreeing to the trenchless sewer pipe repair work plan, the work was executed overnight at the request of management at the YMCA, allowing patrons to continue to use the facilities during normal business hours. After completion of the hydro jet cleaning and trenchless sewer pipe lining it was discovered that many of the clean-outs were damaged and some were buried under years, and years of continual buildup. Blueworks excavated and replaced all existing clean-outs as well as tested the system to bring a conclusion to the sewer gas problem the Orlando YMCA. The complexity of a job like this, which requires meticulous preparation and planning is the type of trenchless pipe repair job most companies would decline, not the Blue Works Company. The jobs that require the planning and preparation are the jobs designed to be handled by the best. Call The Blue Works Company if someone tells you the job is too complicated or that it can not be done. If Blue Works can't do it, then the job cannot be done.
Quick Quote!
Get a Quick, Free Estimate!
Call Now
1-877-880-8125
or Fill Out The Form Below.
Name:
Email:
Phone:
Zip:
Sewer Lining
Hydro-Jetting
Camera Inspection
Other

Enter word above in this box:
Learn More!
Learn More About The Services You Can Get Using SewerRepairUSA.com!
Find Qualified Contractors!
Search For Contractors In Your Area.
How Much?
The #1 Question We Are Asked?
How Much Does It Cost?
Browse Recently Completed Jobs Below And See What Others Are Paying!
Copyright © 2013. All Rights Reserved.