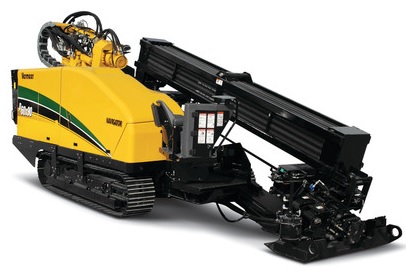 DIRECTIONAL DRILLING - HORIZONTAL BORING (HDD)
BENEFITS OF DIRECTIONAL DRILL - HORIZONTAL BORING
Trenchless Method Of Installing Pipe And Cable Systems
Cost And Time Savings Compared to Digging
Minimizes Environmental Impact
Directional Drilling / Horizontal Boring Technology
Directional drilling or horizontal boring is rapidly becoming, if not already, the preferred method to installing wells, pipelines or cable systems for a multitude of companies. With today's machines, equipment and know how you can literally bore or drill for miles and miles under the most unforgiving rock or soil conditions. What was once viewed as inaccessible lands that could not allow for laying pipe underground is now fully accessible and is quite literally a mad dash to get pipes into the ground. By drilling into the ground for installing pipe it is a great way to extend the life expectancy of the pipe by not having them exposed above ground conditions. Pipes that are installed above ground run the risk of a whole gamut of environmental problems and normally means a lot higher maintenance and inspection costs. Below ground installation dramatically reduces the normal above ground stresses to both the exterior and interior of the pipe. Typical below ground maintenance primarily consists of video camera inspection of the interior of the pipe. When the pipe is installed below ground you virtually eliminate any exterior pipe concerns.
Directional Boring
As you can clearly see there are some tremendous advantages to horizontal boring. Another desired area of directional drilling advantage would be the cost savings. In many case studies the cost savings benefits are immeasurable and are a driving force into exploration of uncharted installation. Moreover, whole city or suburban populations stand to benefit greatly do this technology, whether it would telecom ventures or pipeline solutions. We fully expect to see directional boring to vertical growth for decades to come. As a matter of fact, you might come to find a lot of horizontal boring companies are booked out with work for months and months. This is a strong robust indicator of the need and popularity.
Horizontal Drilling
In addition to the strong economic growth of commercial boring we are growth seeing residential applications as well. Normally, for residential we see gas lines installations, sewer pipe under driveways and telecom installations as well. For residential jobs you would need our much smaller equipment as it would not be possible to use some of our commercial drillers. Also, with residential jobs these are normally done or completed rather quickly and save a ton of time. We recently just did a small 45 foot shot under a newly custom paved driveway. Obviously, you can see the advantage here as most custom paved driveways can cost up to $20,000 whereas, a small shot of of 45 feet under a driveway would be well under $5000 (all jobs are quoted independently and this by no means is an accurate price gauge for any directional drilling jobs you may have).
Microtunneling
The future of horizontal and directional drilling is here! Did you know 'microtunneling'' is gaining popularity? Micro underground tunneling is rapidly improving where a company can drill very small lines under the ground through very tough terrain. To ensure microtunneling meets the demands of the job we now see GPS (Global Positioning Satellite or Systems) being a vital component. With GPS it allows for very accurate delivery of a tunnel system to the end or desired destination of a job. We are talking about inches here not feet, the new machines are incredibly accurate and are in high demand. With the infrastructures of America failing badly and the need to update and modernize our systems nationwide you can expect this industry to continue to grow and be in demand. From state to state more and more contractors are discovering that the horizontal and directional drilling industries are going to keep companies busy for decades to come with virtually no slow down in sight.
Contact us today if you are thinking about directional drilling as an option. We offer estimations and our expertise in drilling underground.
Quick Quote!
Get a Quick, Free Estimate!
Call Now
1-877-880-8125
or Fill Out The Form Below.
Name:
Email:
Phone:
Zip:
Sewer Lining
Hydro-Jetting
Camera Inspection
Other

Enter word above in this box:
Learn More!
Learn More About The Services You Can Get Using SewerRepairUSA.com!
Find Qualified Contractors!
Search For Contractors In Your Area.
How Much?
The #1 Question We Are Asked?
How Much Does It Cost?
Browse Recently Completed Jobs Below And See What Others Are Paying!
Copyright © 2013. All Rights Reserved.