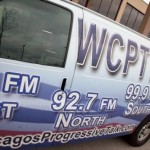 Storm Drain Pipe Relining Chicago, Il
Contractor: Ben Franklin of Northern Illinois Location: Chicago, Il Type: 40' Clay Tile Storm Drain $5,000 Technology: Storm Drain Pipe Relining
Have a sewer problem or need an estimate?
Call American Trenchless Technologies now at (815) 827-6647

View Full Contractor Profile Here: Sewer Repair Chicago
To Email This Contractor

Chicago's progressive talk radio station, WCPT AM/FM owned by the Newsweb Corporation (also owns WDEK 92.5) found Ben Franklin of Northern Illinois on the internet and called them in to do a special project that required doing some sensitive storm drain sewer pipe repair. They had put off doing the repair for some time because of the possible down time at the radio station, something that could not happen. Where the pipe were located it could have lead to some structural damage to the building. So every precaution was considered before a final decision was made.
Clay Tile Storm Drain Chicago, Il
Michael G. McCarthy, Director of Engineering for Newsweb Radio Company, needed Ben Franklin for this job which was located at 5475 N Milwaukee Ave. in Chicago. The overriding concern was safety and downtime of its employees. After speaking with them it was assured there would be no downtime and that the repair would be 100% completed in a day. The storm drain pipe lining solution is usually the most preferred type of repair. The structural integrity of the pipe, once it has cured in place, is second to none.
Relining Storm Drain Clay Pipe Chicago
Upon arrival the sewer camera videos showed the problem inside the clay tile storm drain pipeline, and then a plan was put together to reline the interior of the pipe. The job turned out to be approximately 40' feet in total length. It was lined under the base of the broadcasting tower and part of the building's housing expensive equipment. After all the worrying of how it would be repaired, the crew over at WCPT were amazed that the whole job was completed so quickly and without no downtime needed. The goal here was to do a great job and impress the clientele. In understanding the nature of storm drain pipe relining, making sure the line is set and properly cures to its desired hardness is extremely critical. There are several sewer pipes, and storms drains at this location and the goal is to be called in to line them all. WCPT AM/FM is Chicago's finest progressive talk radio station, and Ben Franklin of Northern Illinois is Chicago's finest trenchless pipe lining company. So whether you own a radio station in Chicago or small house in DeKalb, the #1 solution for your trenchless pipe lining needs starts and finishes with Ben Franklin of Northern Illinois.
Quick Quote!
Get a Quick, Free Estimate!
Call Now
1-877-880-8125
or Fill Out The Form Below.
Name:
Email:
Phone:
Zip:
Sewer Lining
Hydro-Jetting
Camera Inspection
Other

Enter word above in this box:
Learn More!
Learn More About The Services You Can Get Using SewerRepairUSA.com!
Find Qualified Contractors!
Search For Contractors In Your Area.
How Much?
The #1 Question We Are Asked?
How Much Does It Cost?
Browse Recently Completed Jobs Below And See What Others Are Paying!
Copyright © 2013. All Rights Reserved.